O'NEILL TALKS TO THE CB POST ABOUT OUR FIGHT FOR A PLAYOFF SPOT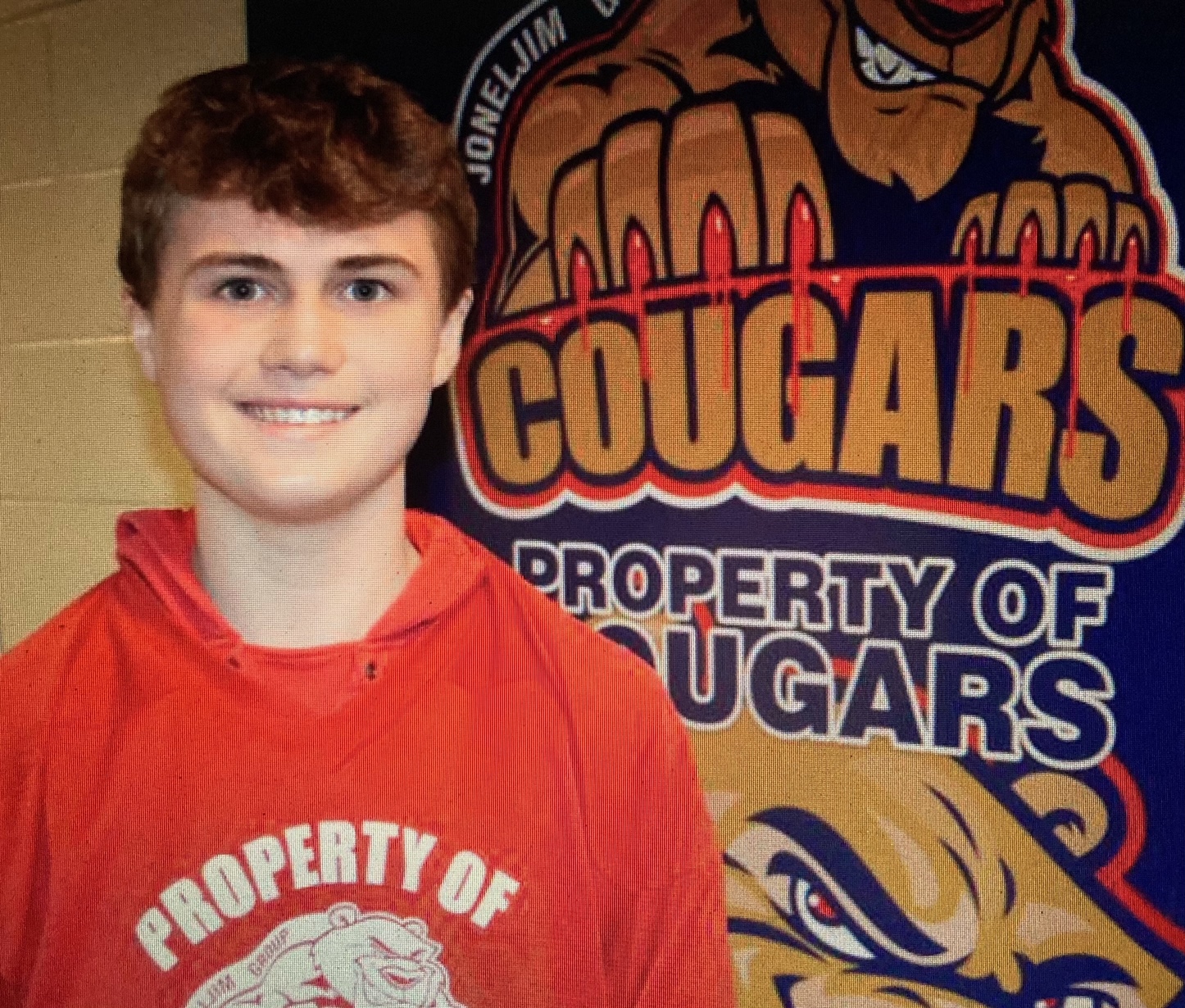 NORTH SYDNEY, N.S. —
EDITORS NOTE: The change to this story is the cancellation of the Cougars' games against Bedford on Friday and Saturday. Both games have been rescheduled for next weekend. UPDATED: Friday, March 19 at 7 p.m.

Keegan O'Neill doesn't have to be told how important this weekend is for the Joneljim Cougars.
The Nova Scotia Under-15 Major Hockey League team is one point out of a playoff spot with four games remaining in the regular season, all in the comforts of the Emera Centre Northside in North Sydney.
Cape Breton's lone league representative currently sits in ninth place in the 12-team league with a 9-11-1-0 record and 19 points.
Entering the final week, seven teams are battling to secure one of eight playoff spots.
Only four points separate the No. 5 seed Novas of Antigonish and the No. 11 seed Valley Wildcats with South Shore, Dartmouth, Halifax, the Cougars and Bedford in between with 21, 20 and 19 points respectively.
"It's been a very close and competitive race this year — it's been different from previous years," said O'Neill, who enters the weekend leading the team with 10 goals and 21 points in 21 games.
"We have to be on our game every day in order to get wins and move up in the standings. Our team knows what we have to do, and we'll be ready to play, for sure."

HOLDING THEIR OWN FAITH
The North Sydney-based Cougars had the opportunity last weekend to help their cause but they dropped a 5-2 decision to the second-place Gulls of St. Margarets Bay on Sunday and lost 3-0 to the Rangers of East Hants on Saturday.
Cape Breton will open the weekend on Saturday night at 7:15 p.m. against the No. 6 seed South Shore Lumberjacks. They will also play Sunday at 11:15 a.m. against the WearWell Bombers of Pictou County. The Cougars were scheduled to play the No. 10 seed Bedford Blue Battalion Barons on Friday and Saturday, however, due to weather conditons, those games were rescheduled for next weekend in North Sydney.
O'Neill, 14, admits the team hasn't played four games in one weekend during the regular season before but he believes his teammates will prepare themselves for the challenge.
"We have to get lots of water into us and we have to get lots of rest when we can," said O'Neill, whose first cousin is Chad O'Neill of Glace Bay, the leading scorer for the Kameron Jr. Miners.
"After Friday's game, we will have to get home quick, have a bite to eat and rest up. We have to be ready to play this weekend — our season counts on it."

TEAM SUCCESS
O'Neill, a Glace Bay native, isn't the only player providing offence for the Cougars this season.
Tyler Seymour is second on the team in points (19) with nine goals, while Rory Pilling has 17 points including five goals, and Hudson Clarke has 16 points with nine markers.
Last season, the No. 11 seed Cougars posted one of the biggest upsets in league history, knocking off the No. 2 seed Gulls in the first-round of the league playoffs, advancing to the provincial championship in Antigonish — which ultimately was cancelled due to the COVID-19 pandemic.
At the time, the Cougars had made league history with the series win becoming the lowest seed to ever win a playoff series, according to data dating back to the 2012-13 season.
Seven players from the 2019-20 team are still playing with the Cougars, which is a bonus according to O'Neill.
"We're going to try to lead the way," said O'Neill, noting the team was an underdog during the 2019-20 campaign.
"We have the experience from last year's playoff run and we have to set an example for the younger guys and show them that hard work pays off — we need that hard work from everyone this weekend."
AFTER THE WEEKEND
The No. 8 seed Halifax Wolverines will play the last place Pro Hockey Life Harbour Storm of Cole Harbour Wednesday night at Cole Harbour Place. The Cougars have two games in hand on Halifax against Bedford.
O'Neill isn't focused on what other teams have to do, but rather he is looking at what his team can control themselves.
"We have to think about our team first and let the rest all play out," said O'Neill. "All we have to focus on right now is winning games and if we do that we should be able to get a playoff spot."
The Cape Breton Post contacted Cougars head coach Brandon Syms for comment but was unable to immediately reach him at press time.
No playoff information has yet been released by the league but the top eight teams are expected to begin their respective playoff series' sometime next week.